Water Heater Problems? Don't panic, call us. PLUMBPROS is ready with same day water heater service, troubleshooting, repair and installation.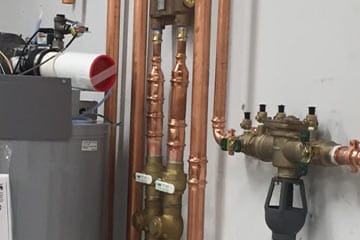 We offer water heater services on virtually all makes and models. Call Now for a FREE Estimate.
Water Heater Repair
There comes a time when most homeowners will have to face the inevitable: a broken water heater. No one knows when that time will come, but if it has not happen to you yet, at some point, it probably will. The first thing you will have to determine is whether the water heater should be repaired or replaced. Unlike many things that can be done around your house, troubleshooting a water heater is definitely not a DIY. Hot water heater repair should be always handled by a licensed Georgia plumber.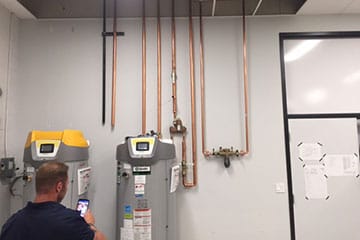 The reasons why all water heater maintenance, repair, and installation in the Metro Atlanta area should be done by a licensed plumber are numerous. For example, it will most likely void your warranty if you try to fix it yourself and most importantly, water heaters can be dangerous.
A leaky gas water heater may be caused by a build-up of water from a faulty relief valve. If this valve is damaged or broken, the excess pressure may cause the tank to explode. Electric water heaters often leak for a very different reason; a damaged or broken gasket around the heating element. The danger here is quite obvious, a potential electrical shock.
One danger that is shared by both leaky gas and electric water heaters is that of contaminated water. When a tank water heater leaks, it may be because of a hole in a pipe inside the heater. When water that has left the system is allowed to circulate back into the internal tank, the possibility of harmful chemicals and bacteria from the outer portion of the water heater entering into your water supply is a real possibility.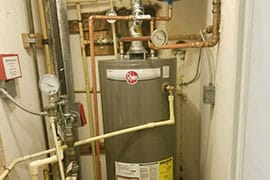 Assuming your water heater could not be repaired, you will need to decide on a replacement model. Residential water heaters generally come in four types; gas and electric models with tanks, and gas and electric models that are tankless. The selection between gas and electric will most likely be decided based on your home's available hookups and the price of energy for each.
Deciding on a hot water heater with a tank versus one without is a bit more complicated. Tanked water heaters generally require less maintenance and are initially cheaper. The advantages of tankless models are their smaller footprints and that they only heat the water once, compared with standard water heaters, which must continually heat the water. This means tankless models may offer greater savings over time.
By consulting with our expert plumbers, we will make sure you are picking the correct replacement water heater to fit your needs, and the needs of your home. Unlike big box stores that offer little or no expertise and may sell you a water heater that may not be right for you, our licensed plumber will come to your home, do an inspection, and recommend products that are both cost efficient and safe.
When it comes to troubleshooting, repairing, and installing hot water heaters do not take chances. For your safety and peace of mind call our expert plumbers at PLUMBPROS.